When I first started out, new apartment, new responsibilities, and new plants I didn't do as well as I expected. Live and learn. I am not the type of person that accepts defeat well; I learn from my failures, I do better. My potted plants were the biggest failure, and they also held the most value in my life. My mother and grandmother both donated plants that they had cared for for years. They were sort of like family members. All but one died under my care. My mistake? Repotting? Potting up? My real mistake is that I was trying too hard, I wanted to do it "right" and in the end did it wrong.
Repotting/Potting Up
Soil in nature i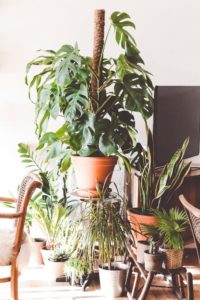 s constantly changing. New organic matter is being broken down, the soil is aerated by things living in it. Much of this doesn't happen in the artificial environments we make for our plants, so we have to put a little effort into their care ourselves. For most plants, they can go a few years without being repotted, although most will survive in the same soil for a LONG time. You don't need to replace all of the soil when you refresh or repot it. Just loosen up the roots a little and some of the old soil will fall out. Both replace soil, but only one will replace the container. Plants grow, and their roots will outgrow the container limiting the size of the plant, this is what is known as being root bound. There's two ways to fix this. One is to transplant it into a larger container, but obviously you're going to have to limit it at some point which brings up your second option, trimming the roots(and foliage). If your plant is root bound to keep it healthy and in the same container just take it out and cut off the outer layer of roots, maybe 1/5th of the total roots, and replace that now empty space with fresh dirt. You'll likely also have to trim the foliage back if that's getting too large. The second problem you'll run into in never switching pots is your soil will run out of nutrients and this can be solved by fertilization, or if it's a low nutrient plant simply replacing the soil as mentioned above may be enough. What and how much you should feed your plants will be depends on the type of plant you have so there are no general answers there. If you keep the other aspects under observation, a plant's soil can go a long time. In fact I don't plan to replace the soil in my potted plants soil for the next 10 years. You'll be pleasantly surprised with what you don't have to do. Soil doesn't go "bad" but the particles do break down. And in a closed system of a container, there isn't a full ecosystem of soil organisms to aerate the soil. And you can get a lot of salt deposits that accumulate in your soil after years of watering. But repotting becomes important when the soil particles have broken down. This is usually once they have broken down to the point that the smaller particle size of the medium interferes with aeration of the roots.