I have been on a horror movie binge for a while now, mostly since I sprained my ankle and have been resting it. Oh, I guess I forgot to tell you that part. But now you know. I have also been putting a list together as I go. I love Netflix, it is easy to enjoy a movie and then go back and see what you liked and didn't. I have been watching two or three a night when I get home from work. So far my list contains:
The Woman in Black
The Orphanage
Grave Encounters
1408
Paranormal Activity 3
Insidious 1, 2 and 3
The Conjuring
Dead Silence
Sinister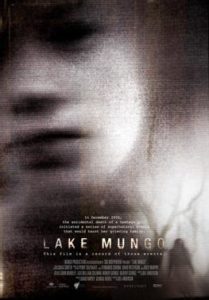 I was told I should try
Lake Mungo (2008)
, but it left me cold. Out of all of the movies I have watched recently it was the one that made my least favorite list. The reason that I tried it was purely off of the positive comments I've seen about it and was unfortunately disappointed with it. I liked the documentary feel to it, and I did think it worked well in eliciting empathy for the family. It was un-engaging and the ending was just sort of there.